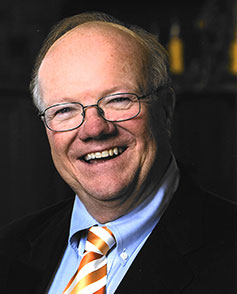 Bio
Mr. Ross McKnight is a banker, rancher, oilman, and philanthropist who lives in Throckmorton, Texas where he was born and raised.
Mr. McKnight received his Bachelor of Science degree from Oklahoma State University in 1971. In 1996 McKnight received the OSU Alumni Association Distinguished Alumni Award, in 1998 was selected the Graduate of Distinction by the OSU Department of Animal Science and subsequently the College of Agriculture. He was inducted into the OSU Alumni Hall of Fame in 2006.
McKnight served as Chairman of the Oklahoma State University Foundation from 2001 thru 2003 and has been selected as the OSU Foundation's first Honorary Trustee.
McKnight has chaired or co-chaired two of the three major philanthropic campaigns at OSU, the Stadium Campaign where 360 million dollars was raised to rebuild what is now known as Boone Pickens Stadium, and in 2010 he co-chaired with his wife, Billie, the $1 billion dollar "Branding Success" campaign for Oklahoma State University which raised a total in excess of 1.2 billion dollars. He and Billie established and endowed the $10 million dollar McKnight Scholarship program for rural youth attending OSU. In 2015 the McKnight's gave 25 million dollars to endow performances at the new 72 million dollar McKnight Center for the Performing Arts at Oklahoma State University.
In 2016, Ross and Billie received the Henry G. Bennett Distinguished Service Award from Oklahoma State University. This is the highest award given by OSU and the first given in 14 years.
McKnight has grown his ranching and agriculture enterprise from an inherited 500 acres to its current 57,000 acres plus ownership of two cattle feed yards in the Texas Panhandle. McKnight is CEO of RoMac Gas Company, a natural gas gathering system, and RoMac Oil Company, an oil and gas exploration and production company.
McKnight is Chairman of the Board and majority shareholder of a closely held bank holding company, Olney BancShares of Texas, which owns InterBank, a $3.7 billion dollar bank serving forty-three communities in Texas and Oklahoma. McKnight was instrumental in the writing and passage of federal legislation that permits banks to be Sub Chapter S corporations allowing community banks the same favorable tax treatment other small businesses have long held.
McKnight served on the Scott & White Health Care Board of Trustees from 2002-2013 when it was merged with Baylor Health Care. He served as Chairman of the Scott & White Investment Committee and Vice Chairman of the Scott & White Finance Committee. He served for ten years as Chairman of the Board of Trustees of the Scott & White Foundation. He was selected to serve on that combined organization's (Baylor Scott & White Holdings) Board of Trustees. He currently serves as Chairman of the Baylor Scott and White Holdings Board of Trustees. He is past Chairman of the Finance and Investment Committee of Baylor Scott & White Holdings. McKnight was selected the 2021 Outstanding Board Member of a Not For Profit Entity in the Dallas/Fort Worth Metroplex for his service as Chairman of Baylor Scott & White Holdings.
He serves as a director on the board of the New York Philharmonic as Chairman of the Board of Trustees of The McKnight Center for The Performing Arts at Oklahoma State University and on its Investment Committee.
Ross has been married for forty-seven years to the former Billie Gaskins of Davis, Oklahoma. He and Billie have two children: Trent, a 2003 graduate of OSU and a 2004 graduate of the London School of Economics; and Meggan, a 2005 graduate of OSU and a 2011 graduate of DePaul University.