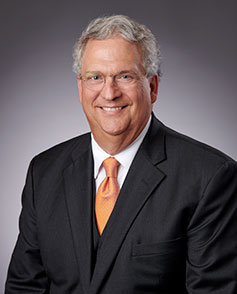 Bio
Frank W. Merrick enjoys many roles, and they all help him serve others. He is President of Foundation Management, Vice President of the Merrick Foundation, and President of Ward S. Merrick, Inc., where he manages all aspects related to oil, gas, real estate and venture capital investments.
The Merrick family's history is deeply rooted in philanthropic efforts and civic entrepreneurship. In 1948, Frank's grandfather, Ward S. Merrick, established the Merrick Foundation as a memorial to his father F.W. Merrick. Its mission is to enhance the quality of life and the health of fellow Oklahomans.
Through Foundation Management, Frank and his staff streamline operations for private family foundations and public charities. These foundations have more than $250 million in assets, managed by money managers of each board's choosing. Foundation Management services include administrative tasks such as accounting, processing grant applications and coordinating board meetings, facilitating strategic planning sessions, and many other operational tasks that can sometimes take the fun out of giving.
Merrick served as Past Board Chair of the Memorial Hospital of Southern OK, the Ardmore Development Authority, and the Oklahoma City Museum of Art. He founded the Homeless Alliance in Oklahoma City and continues to serve on its board. He serves on the board of the Palomar Oklahoma City Family Justice Center and as Chair of Crossings Community Clinic. Frank was active in getting low-income housing added to the Maps 4 agenda and is dedicated to connecting low-income and marginalized citizens to valuable resources that will help create self-sufficiency.
Frank is a graduate of Oklahoma State University, where he earned his Bachelor of Science degree in Business Administration. Prior to launching Foundation Management, Frank was employed by Stillwater National Bank and was Vice President of Trust Sales for Bank of Oklahoma. Frank served on the boards and committees for Exchange National Bank and Union Bank through acquisitions and maintains membership on the InterBank Board of Directors. Over time, Merrick has gained valuable banking experience and gained insight into the innerworkings of the financial world.
Frank and his wife, Debbi, travel as much as their schedules allow and enjoy exploring other places, always loving coming home to Oklahoma.